---
The latest H&V is out on Saturday.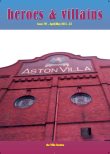 After 25 years this is the last printed version.
From August we'll be transferring to digital-only, and staying dry in the process. This means more issues per season, more pages per issue and more up to date as we don't have to work round fixtures. The price will be around the same as VAT now has to be added and set-up costs are comparatively high for short runs such as ours - Private Eye, we ain't. We're looking at the idea of doing two Best Ofs every season as paper versions on sale at the ground for anyone who hasn't got digital access but more news on them nearer the time.
< < < more > > >